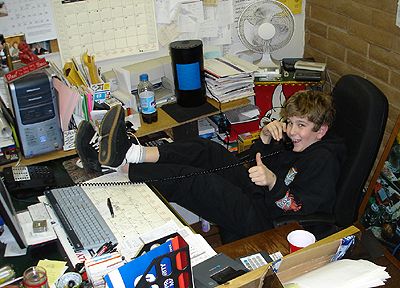 No, that's not me 35 years ago, although looking at older pictures of me, you'd swear it was! That's Max, who's taken over the business. Well,
his
business, anyway...
All of my children have had an interest in magic at some point or another. Whether performing it in front of others or anxiously awaiting the newest magic special, each had some type of interest in it. When I was a kid, I loved all sorts of gag, jokes, and magic tricks. Every day, I waited for the postman to deliver the latest box of novelties from the Johnson Smith Novelty Company. There was no greater feeling than putting that fake dog doo on my mom's white carpet and waiting for the scream! Who could forget the whoopee cushion at Thanksgiving dinner? Ahh, those were the days. But somehow, these mischievous little genes made their way to my youngest son, and he's continuing the long standing tradition. Max
loves
pranks and jokes! It all started a couple of years ago and has truly grown and flourished since. In fact, we do everything in our power to keep Max away from Mike here at the shop! What a pair! Their almost joined at the hip.
Anyway, last summer, Max, the young entrepreneur approached Betty and I about the prospect of having a joke/novelty/magic booth at his school's carnival. We agreed that it would be a terrific experience for him, and we couldn't have been more dead-on! Not only did Max walk away with the most sales and people at his booth, he became the epitome of Mr. Cool to all his friends at school! When he returned the following Monday, dozens of kids approached him asking to buy other things he had on display. Max immediately saw the potential here and talked with Betty and I again about having a little business of his own called
Max's Funny Farm
! After all, he could now purchase the things he wanted and have fun making some money in the process. He really loves it, and he's really driven; every day it's something new: "Dad, can you order me this and that? I'm out of this, so I need some more."
He even prints his own flyers and prints his own specials. What a little businessman! As a gift for Christmas, Betty and I ordered custom business cards for Max with his private phone line on them! He now has answering machine to catch all incoming calls should he want to go outside and play. I'm truly impressed! We are trying to work it out so that Max can have his own web site. Who knows, it may even be somehow connected to the Hocus Pocus web site! Our idea is for Max to continue selling his products (of course, all the while supervised by Mom & Dad) and putting most of the profits into his college education fund!
After looking at his picture above, I have to admit, he does look rather cool sitting in my office. Who knows? Maybe when I retire, you'll be dealing with Max instead of Paul...
Thanks for taking time to read the blog.
Until next time,
Paul