As I write this today and look at the calendar, I can't believe that half the year has already gone by! Normally, I talk about things going on here at the shop and all the future irons I have in the fires, but I wanted to forgo that today.
Can you hear his words of wisdom? I'm talking about your dad, of course. How many times have you gone to your dad for help, advice, or just to talk? Where would we be without our dads? I noticed that it's time to recognize all the dads around the world because, as you are probably already aware, this Sunday is Father's Day! Let me tell you a little bit about my dad: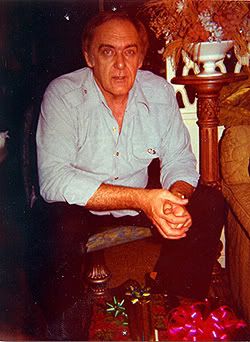 Marvin Gross, my dad.
My dad was instrumental in the creation of this business, believe it or not! When I was a mere 18 years old and decided I wanted to be in the magic business, my father was right there supporting me all the way. He taught me to work hard and do what it takes to be successful and not be afraid to go the extra mile. Although he may have had his doubts about my success in the business at first, he never once voiced them. Not once! Instead, he supported me, helped me get a bank loan, and he even came and helped me paint the walls and hang shelving at my first store! I learned from my dad how to be a good businessman, but more importantly, how to take care of my children and how to be a good husband. He was always the best audience whenever I got the newest magic tricks and wanted to perform them. If I could fool him, I knew it was perfect. If not, back to the drawing board.
My dad had a great sense of humor and was always the center of attention at any party or get-together he attended. He attracted people like a magnet. He stood a full 6' 6" tall, a bit intimidating when you first saw and met him, had a boisterous voice, however, he had a heart of gold. He would give you the shirt off his back and the last dollar in his pocket without hesitation if you needed it. He was honest, hard-working, and never selfish. He had literally hundreds of friends who I didn't even know, and he was never a stranger anywhere he went. He was always there for my sister and me no matter what we were going through! Always supportive and overly patient, a trait of his I wish I had inherited, he was a great provider, and we always had everything we needed and then some.
He worked long hours, sometimes up to 14 hours per day, sometimes weeks on end without any days off to make sure his family were well taken care of, and he never complained. No matter how busy he was, he always had time for his family.
When we were kids, our Father's Day tradition was to let Dad sleep in on Sunday morning followed by the breakfast of his choice! Then we would go visit my grandparents, and the highlight was going to Foster's to get a Root Beer Freeze! Sounds simple but it was a great time for us all!
It has been 18 years since my dad passed away, and I still think about him every day. Referring to his words of wisdom whenever it comes to making a life or business decision, I always find myself reflecting and repeating the words of advice and love he always gave me.
So, tomorrow, I'm going to do something that my dad always did for us: I'm going to take a day off and spend it with the family. Saturday, we're having a family barbecue with all my family, aunts, uncles, siblings, children, etc. to celebrate an early Father's Day and my daughter Renee's engagement. The pool will no doubt be full of kids and the back yard will be at capacity. I can't think of a better way to spend my Father's Day weekend.
So, if you're a dad, happy Father's Day, and if you can, wish your dad the same.
Until next time,
Paul