Hi again!
It's Thursday morning, and the rain has finally subsided, but we are left with some cooler weather in its place. Now, for some of you, the thirty degree mark is nothing, but for normally-sunny California, it's a little nippy!
We had a visit from Michelangelo, of Michelangelo Magic, who flew in all the way from Utah just to spend the day with us here at Hocus Pocus! We had a great time, and we thank him for making such a long trip just to say hello! If your travels bring you anywhere near our humble town of
Fresno
, make sure to give us a call; we always enjoy visits from friends, new and old.
Employment Opportunity!
Hocus Pocus
is currently looking looking for people who are interested in joining our team. If you are interested in relocating, are a self-starter and a motivated individual who can work in a fast-paced and exciting environment, please conact us at toll-free 800-407-4040. We'd love to hear from you!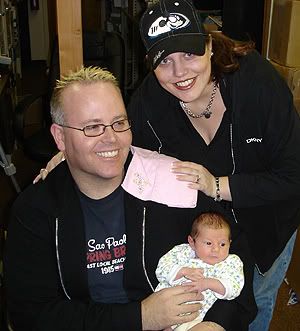 Jason, Angela, & little Madaleine
Yesterday, Jason's wife, Angela brought Madaleine and her mom, Karen, to Hocus Pocus. We all thought that Angela's mother was her sister, she looks so young! Following up on the London Family, as you can see, Mom, Dad, and daughter are all doing extremely well... I'm convinced that newborn babies transform miraculously from week to week; Maddy looks entirely different than she did the first time I saw her. She's very cute!
Hocus Pocus has experienced incredible growth over the past few years. As a result, change is inevitable and necessary to the growth of any business, and we certainly embrace that notion. If you have suggestions, feedback, or comments, I would certainly love to hear them; your feedback is important to me because, after all, you
are
the reason we are here!
Until next time.