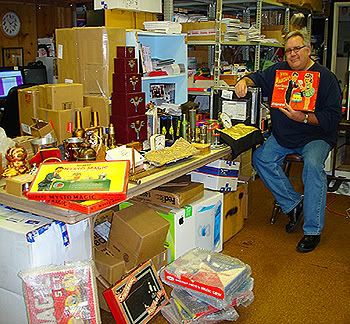 I took a walk down memory lane when I picked up this, my first magic set as a kid! Just think, it all started with this little cardboard box...

That's right; the picture says it all! This has been one of the most exciting weeks here at Hocus Pocus. Each and every day this week has been like Christmas again, because one of our very good friends in magic has decided to part with a large portion of his personal collection. We've seen things you wouldn't believe: things from the 18th Century, and everything from collectible magic sets to P & L, Thayer, Klingl, Collector's Workshop, Doug Henning's Sub Trunk, Himber, antique posters, and so much more. You name it, it's probably here! If you've been browsing the web site, we've chosen different pieces and highlighted them there in the New/Hot section, and as quickly as they go up, they come down again! If you are an online member, we'll be sending out several emails beginning next week listing these precious gems. If you wish to receive this list, but you are not a member, I urge you to sign up as soon as possible so as not to miss out. Remember, signing up as a member is a free service, your membership information is yours and yours alone, and you can opt out whenever you like!
Become a member by entering the online store, click "Member" on the lowermost black toolbar, follow the directions, and you're in!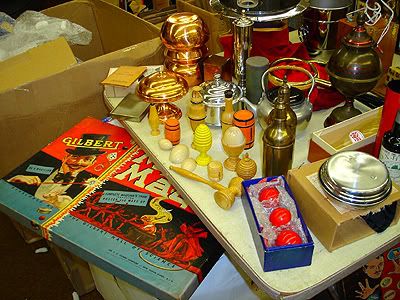 All kinds of goodies here, including some antique 18th Century pieces. See if you can spot them.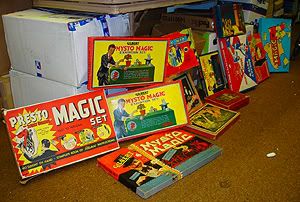 Just check out some of these vintage magic sets, and believe it or not, each and every one of them is complete with each and every single piece! For each one I open, it's like stepping back in time.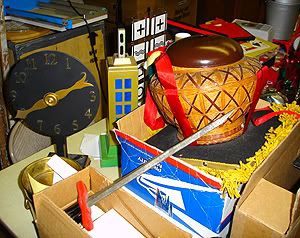 Boxes and boxes and boxes seem to go on forever. Check out that cool Carl Williams Spirit Dial and Bev Bergeron's personal Snake Basket!
It's going to be really hard for me to part with some of these items as I've grown rather attached to them. Don't forget: I buy personal and private collections and estates. You may have magic that you may like to part with. If so, I welcome your phone call. 800-407-4040
Mike & I will be working until the wee hours of the weekend compiling this huge list of collectibles. I hope you all have an excellent weekend, and thanks again for taking time to read the blog. It's been quite fun putting this together and hearing your comments.
See you next time,
Paul