Hello, all!
Hope you all had a terrific St. Patrick's Day yesterday. Thanks for the tremendous response you've given us for our St. Patrick's Day Sale Event! We shipped 118 boxes yesterday all over the globe!
It seems like every 6 months or so, we find ourselves needing more room as new products continue to arrive daily. We've done many things like adding a second tier to the warehouse, and tearing down and moving a few walls here and there, and now we're adding more space to the back lot!
This week, our landlord is here from Gulf Shores, Alabama. Most people don't like to see their landlord, but I love it when Bob makes an appearance. He really cares about his tenants and does everything possible to make us feel completely comfortable. He's never closed-minded to ideas I may have regarding the business. He was the one who encouraged us last year to build up and out; whatever we wanted to in order to make the building work for US! This visit, he brought us great news: he is adding on an additional 900 square feet to the back lot. This means we'll have even more space to utilize and manage (which we welcome). As I type this, they are feverishly working in the back, sawing, hammering, etc. Construction should be completed by Monday! This will be a welcomed start to the new week!
Last week, I told you how cold it was here. Cold like BRAZIL! It was in the high 70s to low 80s as if we skipped Spring and jumped right into Summer. Today, it's cold, windy and overcast and Mr. Weatherman says we're in for more rain for the next 4-5 days. So it's back to warm clothes and umbrellas.
Mr. Fresno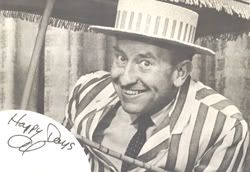 Al Radka was known as Mr. Fresno. Al came to Fresno over 60 years ago. Starting out as a radio personality, Al took his career in many different directions, including local TV personality. Al had a kids show every day on local television called "Al Radka's Fun Time." He would play old cartoons and my favorite "3 Stooges" episodes. He wrote, produced, and directed a lot of local television commercials which were corny, yet funny. He even wrote jingles, which believe it or not, I can still remember the words. Everywhere Al went, he had a smile on his face like in the above picture. He was a jokester and loved to make people laugh. He did so much to raise money for charitable causes and was always available to help whoever needed it. No matter where you went in town, people knew instantly who Al Radka was. Everyone. Al Radka passed away last week at the age of 89. His raspy voice and funny jokes, told in his straw hat and striped coat will stay with me forever.
Spoke to R. Paul Wilson a few days ago, and we're excited to be able to offer his new DVD, "Unreal Work," along with Jason England. People have been waiting for this for a long time. It was a huge hit at the WMS this year. We have a limited supply immediately available for shipping. If you are interested, definitely check out the web site.
We are also excited about a new product from Chance Wolf of Wolf's Magic. Several years ago, Chance told me about an effect involving a borrowed bill that ends up inside a solid cube of ice. He's been performing it for years prior and had been considering releasing it to the magic fraternity. The wait is over; Chance has granted us the exclusive selling and distribution rights for "Bill in Ice." Chance is putting the finishing touches on them now, and they'll be ready to ship April 1, and that's no joke. Again, check out all the details on our web site.
Ascanio Book Update:
After a major Customs foul-up, I am happy to say that the Ascanio books will be here this afternoon. If you've already ordered one, yours, of course, will be shipped immediately. If you haven't ordered this fantastic book yet, jump on the bandwagon as Hocus Pocus is the first and only place you'll be able to purchase this book from for months to come!
If it doesn't rain all weekend (keeping fingers crossed), I'll finish my yard work projects from last week! Betty and I plan on attending a huge annual Antique Street Fair. Who knows what we'll find?
Until next time,
Paul