Hi, all!
Although you can't tell around here because it's a bit overcast and rainy, Spring is officially here. In fact, as I'm writing this, it's just about to start pouring again. Don't get me wrong -- we need the rain as the major source of income for this city is agriculture, but it would be nice to see the sun once in a while...
You may remember that I posted the coming of a major announcement on the last blog entry, and in case you haven't seen the site yet, Hocus Pocus is proud to be the exclusive official dealer of the Fabrice Delaure line of magic here in the USA!

The high quality and integrity of this line of magic is something I've been wanting to represent for a long time now, and a dream has come true. Everything that Fabrice puts out is of the utmost quality and it's backed up 100% by both Fabrice and Hocus Pocus. I've had Mike work feverishly to put these products online and they've been appearing in vast numbers every day, and there's still more to come!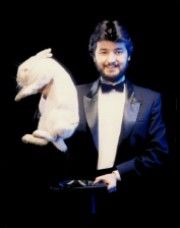 Gerardo Para, magician and friend
We're always happy when we are visited by our customers. Recently,
Gerardo Para
, from Chile, who always visits us twice a year, just paid us a visit. He's quite well-known in his country and puts on one heck of a show. You could not meet a finer gentleman than Gerardo!
For those of you who purchased the Paul Kozak Salt Pour, you may have noticed a tidbit of his routine on the DVD that didn't make it on our web site (for good reason). It's his Bottle Production from Silks, and I'm happy to say that we will also be carrying this fantastic product to complement the salt pour routine.
One of the things that Kozak mentions on the DVD is that you are free to use his routine for your shows (this is one of the reasons we didn't put his entire routine on the web site). It's very rare that a professional performer is willing to sell not only a product, but the routine that accompanies the product as well! What you are receiving is, in fact, years of refining, study, redesigning, and all the nuts and bolts that would otherwise take you years to acquire on your own! Kozak is that kinda' guy, and what class! I personally have tremendous respect for performers like Kozak who do their homework, love what they do, and have no problem sharing that part of themselves with others. There's a huge difference between a performer who offers a product that he himself never uses and continuously produces "new" products as the flavor of the month, and a performer who decides to share with you what he personally has used for years (and still does). Thanks again, Koz!
I've had a lot of comments about new products that were introduced at the Blackpool Convention last week. I understand that there were several that really stood out. Not to worry; Jason's already made contact with some of the originators and you'll start seeing these items pop up on the web site soon! I always appreciate any input or information like this from you as we are
constantly
searching the globe for new and original products.
Hope you all have a safe and restful weekend. I can't believe it -- Fed-Ex just showed up at our door with a ton of packages, and if it's what I think it is, you'll be pleased! Stay tuned.
Until next time,
Paul