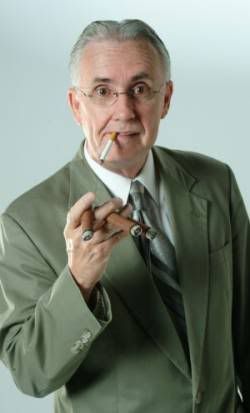 The incredible John Rogers
Our web page has exploded since the beginning of the week. Since Monday, not only has Mike put on more than 50 new products, we have acquired the John Rogers line. This line of faux cigars and cigarettes is incredible, and John is quite the craftsman. Each and every one of his items is meticulously hand crafted from wood and from scratch. Need the perfect manipulation cigar? We've got it. Need the perfect cigar for the purse routine? We've got it. Need the perfect cigarettes for a manipulation act? We got it all. One of my personal favorites is the Diablo Cigar. Just watching the online video makes me laugh out loud. Watch John as he performs this, and you'll do the same.
You might remember, last week I mentioned that there were some hot new items previewed at the Blackpool Convention in the U.K. One of the most talked-about items was the Electronic Crasher. We received confirmation early in the week that we will have these to ship out on April 1st (no, it's not an April Fool's joke). There's also a cool online video of the Electronic Crasher in action, so head on over and take a gander.
Oh, I almost forgot (I don't know how) -- Banachek and Dela have released a brand new version of Banachek's best-selling Psychokinetic Pen called the PK Sharpie! Now, you can do everything the original did but with an item you most likely carry with you everywhere: a Sharpie brand marker! We were very lucky to obtain the first 50 released, and they're selling like hotcakes!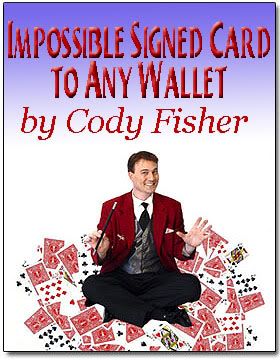 Cody Fisher
Talk about hotcakes, Cody Fisher's Signed Card to Any Wallet sold out completely of the first shipped 100 pieces in 3 days! Spoke with Cody yesterday, and the poor guy is whipping them up as fast as he can so you can have it in your hot little hands ASAP! Also, be sure to check out Cody's School Show Opener, which is a tried-and-tested, 5-minute routine involving an entire school show audience and a spoon! Every word of his patter is included, and we thank Cody for allowing us the exclusive on his fantastic products!
Thank you all for your tremendous response and support regarding the Fabrice Delaure line of electronic magic. The orders have been pouring in, and Fabrice is elated with our new working relationship. So am I. Jason spoke with Fabrice a few days ago, and there will be three new products that will be released shortly. Keep your eye on the web site for updates...
Finally, the weather has been beautiful these past few days. We expect a high today of 78 degrees and a high of 84 degrees tomorrow. The air conditioning unit for the warehouse has already started its pre-summer warm-up! Sounds like a terrific weekend to work in the yard! Maybe I'll pick up building bird houses again.
What a year this is going to be, so fasten your seatbelts and keep your hands and feet in the vehicle at all times.
Until next time,
Paul