Friday the 13th, and we defy all superstition! We're walking under ladders, crossing the paths of black cats, and breaking every mirror we see. Not really, but it sounded good, right? It's funny how we all believe in these little things: my mother, to this day, will not let you open an umbrella inside her house, and that's no joke!
Lots to talk about this week. My son, Max, became an official teenager on Wednesday! The big 13! To say he's excited about becoming a teenager is an understatement. We started having the pre-birthday warm-up from Max two weeks prior by him leaving us notes on the refrigerator, slipping them under the bedroom door, and of course, verbal hints being dropped at every opportunity. For his big gift, he wanted a new Go-Cart, so Wednesday night, after dinner, we had the official unveiling! This baby goes a full 25 MPH, believe it or not, and for Max, that's supersonic! Of course, he test-drove it up and down the street all evening, and this weekend, we'll be taking it to my mother in-law's farm where there will be plenty of wide open space for Max to break it in.
Tomorrow, Betty and I will be taking Max and 8 of his best friends to Boomers for a big birthday bash where, for four hours, they'll be able to stuff themselves with pizza, cake, and ice cream, play arcade games, miniature golf, bumber boats, and Go-Carts, and play Lazer Tag! Ah yes, to be 13 again!
In other news, my daughter Aimee is visiting for a few days from Santa Barbara. It's always good to see her when she has time due to her hectic work schedule.
Today, we received Gilligan's Prediction, which, I'm sure most of you have seen on our web site. We ordered 200 units, and I would guess that a little over 150 will be shipped out today to those of you who pre-ordered. Thanks again for your orders! If this is something you were considering purchasing, it is a tremendous value for your the low priced at which it's advertised. The method is really clever; I cannot believe a fifteen year-old magician came up with something as good as this! Definitely worth a second look if your are still pondering purchasing this item!
I'm sure all of you know by now the sad passing of one of magic's great legends, Jay Marshall. I can happily say that I was extremely lucky to see Jay perform over the years at many magic conventions. To see him perform "Lefty" and "Paging Juan Escadero" was the epitome of true magic! I know it's cliche to say, but there really will never be another like him! As we like to say at Hocus Pocus, "He had a great run." With Jay passing away, it really is the end of an era.
Mike recently had an interesting show last weekend for an insurance group. Talk about a challenge: the room he was performing in was surrounded 360 degrees with mirrors! Not only on the sides of the room, but also on the ceiling as well! If there's nothing more challenging in a magic career, it's performing in those conditions! Kudos to Mike; he pulled it off and even received a standing ovation! When I hear stories like that, it makes me want to take up performing again! Mike keeps encouraging me to do so, and I must admit, the notion is becoming more and more
appealing. It's just finding extra time that is the problem...
I'll leave you with a wonderful note I received from our good friend from the United Kingdom, Nicholas Einhorn. Congratulations to both he and his wife, Jo, who had their first child, a baby girl: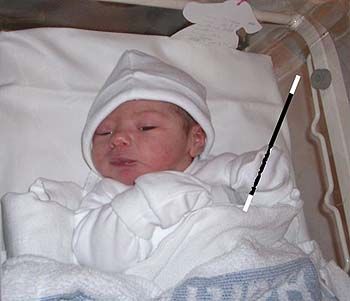 Jo & Nick are delighted to let you know that at 2.59am on 5/12/05 Emily Natasha Einhorn made her first public appearance. She weighed in at 7 lbs and 4 oz. The Show started at 3.00 pm the day before so as you can image the performance was quite long, but the main act was well worth waiting for and the whole cast is now resting and excited about future projects.Lots of love,Nick (Director) and Jo (Producer!)
Thanks again for all your letters, comments, and suggestions. I really do read them and appreciate them all. It's you who makes Hocus Pocus what it has become today!
Until next time,
Paul