So, imagine my surprise this week when I hear the doorbell ring here at the shop on Monday, and I see what looks to be a man resembling John Calvert standing outside the warehouse. I ring him in, and it IS John Calvert! What a surprise! John and Tammy had a few days off in between their very busy lecture tour from Florida to California, and John decided to spend some time with his "son from Fresno." That's what he calls me.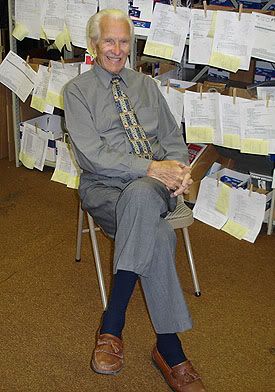 John hangs out at Hocus Pocus
John said that since they had a few days off, he knew I would have a project for him. He was right; I had three! I suggested that John and I produce a series of DVDs featuring his famous Magazine Tear, 100 Foot Rope Escape, and Sightless Vision Act. John immediately agreed, and in less than 24 hours, the cameras were rolling and guests were seated in our in-house studio! The DVDs should be ready for release in 30 - 45 days from now, and they will be worth every penny! John releases the nuances and subtle hints that make these three showpieces worth their weight in gold! In case you didn't realize, John Calvert, besides being a living legend of magic, has been performing these and other effects continually for the last 50 + years!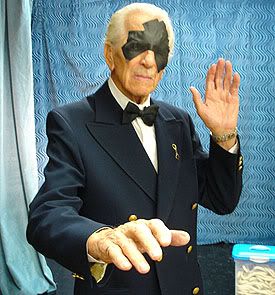 John performs the Sightless Vision Act
At 94 years of age, that's right -- I said 94 -- he's got more energy and gusto than people a third of his age! The man is always going and continually busy! He wraps up this year with numerous performances and lectures at the Magic Castle and is one of the headlining acts of England's Magic Circle Centennial Celebration!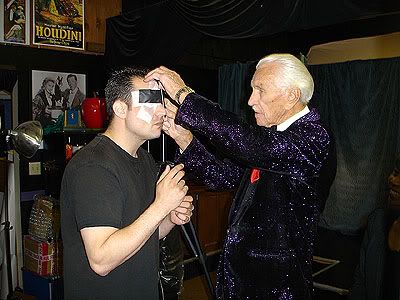 Mike gets first-hand lessons on the Sightless Vision Act
While John and Tammy were here, we enjoyed having them as our guests for dinner each evening as John told numerous stories of his days as a movie star, magician, and traveller around the world! He also brought along a very rare McElroy Brothers' Talking Skull. For those of you who know me, antique and collectible magic is a passion of mine, and this was a one-of-a-kind piece custom made just for John in 1937! Not only was it featured in his full stage show, it even made its appearance in several of John's movies. Check out the photo below: I'm the one drooling all over the table!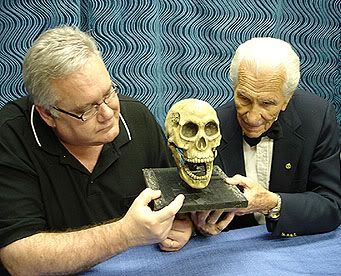 John, me, and George
As I write this, John & Tammy are packing up their gigantic motor home and heading south for Bakersfield, Las Vegas, San Diego, Long Beach, and it goes on from there! If you have a chance to see John & Tammy lecture, DO NOT miss it!
I'm taking tomorrow off, heading south myself to Santa Barbara where my oldest daughter is graduating from UCSB! I couldn't be more proud! If you have someone graduating from high school or college, congratulations to you as well!
Boy, with all the excitement that this week has brought, I can't even imagine what next week will bring; there's never a dull moment at Hocus Pocus!
Until next time,
Paul