Mike Giusti here (yes, that really is - was - me above), and I'm hijacking the blog again as Paul has finally taken a much needed 4 day weekend! You know it's time for Paul to take a vacation when he comes up to you, tells you something, and then an hour later, he tells you the exact same thing, and then another hour later, well, you get the idea...
I've gotta be honest, it's been one heck of a week! Yeah, I know -- you hear us say that a lot, but just take a look at the tons of things coming in and going out just today: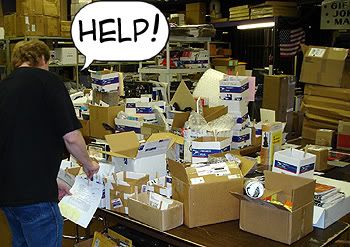 Jason up to his neck in shipping

In addition to dozens and dozens of new products hitting the store, the biggest sale in Hocus Pocus history has taken us by the necks and cranked us up into high gear! Not only are people saving 25% off but everyone's getting free magic, getting entered into a drawing for a prize per day, and also getting entered into a drawing for a huge $1500.00 Hocus Pocus Gift Certificate to be given away at the end of the sale! What's that? You wanna get in on the sale? No problem;
click here and start saving and winning!
The 4th always means lots o' gigs for me, so in addition to my weekend restaurant gigs and helping Tony Blanco move into his new house, I'll be enjoying my 4th performing for many families, and that's just the way I like it! Two years ago, as I was performing my signature 4th of July finale, 3 fighter jets flew over right at the perfect time. I still get goose bumps thinking about it...
Speaking of Tony, my pal and brother in magic, he is now officially living in Fresno as the last of his Vegas belongings made their way here and the sale of his old house was completed just last evening. I'll let him tell you all about it. Take it away, Tonester!

Thanks, Mike. I tell you folks, besides being the "Cindy Crawford" of Hocus Pocus ads, Mike is a super guy and truly the brother I wish I had growing up. Now to my new postion here at Hocus Pocus: Paul has hired me on to be his right hand man but he really just calls me his "Personal Slave." Paul doesn't understand why I even bought a home since I'll never be able leave this building to have a life of my own. Paul's vision is to have Hocus Pocus give as much a personal touch to each customer.
Now the big question most folks are asking me: Why are you leaving Las Vegas? Are you giving up performing? The answers are simple, really. I have been performing for over 30 yrs (18 of which in LV) being a creative kind of guy I just really reached a level of, "So this is all there is in Las Vegas?" Lots of ideas and creative things are what I plan to bring to Hocus Pocus.
I have been very luckly to have appeared in Las Vegas at Circus Circus as a Clown to Stage Magician on the Court Jester Stage at Excalibur. So after 18 years, leaving Las Vegas for me was easier than it was for Nicholas Cage. I enjoy performing very much, so there is no way I will give that up. Only now I will hope to be a Big Fish in a Small Pond here in Fresno. This is my first blog since Paul is away, so trust me, I will find more ways to get him out of the office more! Please feel free to say hello when you call with orders; I will be here as your personal slave too! Not to spend blog time on the matter but if you want to get to know me:
www.tonyblanco.com
Now that Tony has finished his biography, on behalf of Paul, Tony, and myself, make sure you and your family have a happy and safe 4th of July Weekend!
Mike & Tony