Happy Halloween, everyone! We're just a few days away from all Hallow's Eve, and the Gross household is abuzz! My son, Max, has completely decorated our house with all the Halloween paraphernalia we've collected over the years, and the candy bowl is awaiting its supply! Max's costume is all set -- he's going to be Napoleon Dynamite, and what a funny one he makes! He does a perfect impression when he's all dressed up in costume, and he cracks us up!
On Monday, we received distressing news that John and Tammy Calvert were somewhere lost at sea in their yacht, "The Magic Castle II," due to Hurricane Wilma in Florida. We breathed a sigh of relief when we received the below article from the newswire:
Surviving Wilma on the waves
Couple ride out terror as John Calvert, 94, and his wife, Tammy, 63, survive Wilma on a runaway boat

Laurin Sellers Sentinel Staff Writer
Posted October 26, 2005
Retired stunt man John Calvert, 94, and his wife, Tammy, 63, row back to shore Tuesday after being rescued by the U.S. Coast Guard. They spent a rough day Monday on their 67-foot boat after Hurricane Wilma destroyed the dock to which the craft was tied in Merritt Island.
MERRITT ISLAND -- At the height of Hurricane Wilma, John Calvert stood on the bow of his yacht in the Banana River struggling with a frayed anchor line.

If it snapped, the 94-year-old man was certain the fierce winds would send his boat crashing into the Mathers Bridge.

Inside the thrashing 67-foot vessel, Calvert's wife, Tammy, prayed.

"I was scared to death," she said Tuesday. "I thought it was the end of us."

Hours earlier, Tammy Calvert, 63, who can't swim, had urged her husband to leave the yacht they call home and ride out the storm at a friend's house.

But Calvert, a former stuntman, magician and adventurer who has flown blindfolded and once doubled for Clark Gable, was convinced they would be fine.

The yacht he had helped build 25 years ago was tied to a dock and was weighted with seven anchors.

But as the winds howled Monday afternoon, a nearby dock suddenly broke apart and slammed into the dock where the Calverts' boat, the Magic Castle II, was moored.

"I had to cut the moor lines and all but two of the anchor lines loose so I could get away from the dock," Calvert said.

He managed to start the motor and steer toward the middle of the Banana River about 100 yards from shore, where the water is 20 to 25 feet deep.

Despite near-100 mph winds, 5-foot waves and pounding rain, Calvert still was convinced they would be safe.

Then he noticed the fraying line.

"I had to get that part of the rope pulled in so it wouldn't break," he said. "I have to say, I was getting very concerned."

Using a cell phone with a dying battery, Calvert called his friend Bob Green and asked him to get help. Green called 911 and then the U.S. Coast Guard.

But even before Green called him back, Calvert knew nobody would come for them.

The winds were too strong to send a helicopter, and all the boat ramps were flooded, Coast Guard Petty Officer Ben Fleming said.

"I already knew I would have to figure my way out," said Calvert, adding that the Coast Guard kept close tabs on them, calling every hour.

Somehow, Calvert managed to secure the anchor line, and the couple spent the rest of the night huddled inside the stranded yacht.

Early Tuesday, a Coast Guard vessel brought the weary pair to shore.

By late afternoon, a diver from a salvage company was trying to untangle a mass of ropes and lines in the murky water, some of which had gotten caught in the boat's propeller.

"I don't have a bone or a muscle in my body that isn't aching," Calvert conceded. "I've never worked so hard in my life."

Tammy Calvert spent the morning on the phone with her sister.

"We both just cried," she said, the tears suddenly welling.

As for the Magic Castle II, Calvert said he had decided to sell it just days before the hurricane hit.

Tammy Calvert couldn't be happier.

"This was like going through hell," she said.
Other friends who have been hit hard in the Florida area like Guy Bavli, who called the other day to say they won't have power for 3-4 weeks are also doing well, despite the inconvenience. We're also hoping to get in touch with Ulf Morhling and Lawrence Lemon, both of whom live in the hardest-hit area of Florida. Hopefully, they'll read this and get in touch with us; we want to make sure they are doing OK.
Next Tuesday evening, November 1st at 8:15 PM, Mike Giusti has invited me to be his guest on his show for the
Magic Broadcast
. If you have a chance, please tune in and give us a call during the show with any questions or comments you may have. I look forward to talking with some of you during the broadcast.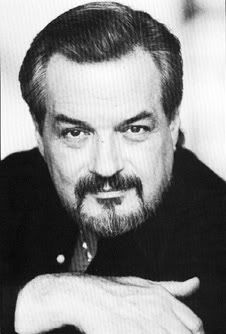 Harry Blackstone Jr.
I received a most precious gift from my good friend Ron Allesi this week. Ron knows how much of a fan of Harry Blackstone Jr. I am and when he came across one of Harry's Vanishing Birdcages, he sent it to me as a belated birthday gift, and I couldn't be happier! For those who know me well enough, you know how much of an influence Harry was on my life in magic. Someday, in the near future, I'll tell you the story of Harry Blackstone Jr. and myself. Definitely one to look forward to!
We're staying extremely busy as the Holidays gear up, and each day gets more and more hectic. We couldn't be happier. We're ready for the holiday rush and gearing up to bring you some of the best magic for your holiday shows! Look for the special Hocus Pocus Holiday Page in the next week!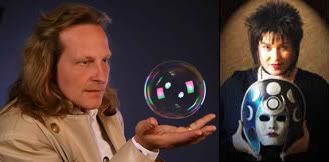 Losander and Luna
A big congratulations go to Luna and Losander on the birth of their son, Adam, yesterday morning. Losander called me today, and I could tell how proud of a father he was as we talked. Luna, the baby, and he are all doing fine, and we wish them all the happiness in the world!
So there you have it -- an extremely eventful week, to say the least! Make sure you have a safe and fun-filled Halloween this weekend and don't eat too much candy!
Until next time,
Paul