If someone told me over 30 years ago, when I began this business, what it would turn into, I would have shaken my head in disbelief! When I think about all the people I've met, place I've been, and the friends I've made in the world of magic, it's pretty incredible, to say the least! None of this could have happened if we hadn't changed with the times. For the past five years especially, there have been many changes within the industry. Hocus Pocus has adapted accordingly to the current trends and needs of our customers. We are able to do this because we're willing to listen to you and make the necessary changes to do so. Here at Hocus Pocus, it's more than just selling magic tricks; it's about building long-term relationships with our customers. The biggest change in our future right now is this big move, and while we may experience one or two technical glitches, we promise to make it as seamless and as smooth a transition as possible. I said it a million times, and I'll say it a million times more: YOU are the most important part of our business. It is your constant support, dedication, and commitment and that has allowed us to make the necessary changes to our business. As we transition to our new location, it is our goal to provide you with even better service before, during, and after each sale, to excel in our shipping department by making it even faster than it is now, and to make our customer service department better than ever! Change is good.
I invited Mike to stop by the new building with me as we took a look and soaked in the interior of the place. We felt we should share the size and space with you now before it fills up with inventory, equipment, etc. Take a look:
Shots of a portion of our office space

Another view of the office space
Meeting room

One corner of the warehouse

A view from the opposite side of the warehouse
Great view of the outside from the warehouse
Last Friday, we had a visit from one of our favorite customers, Gerardo Parra, who comes to see us every year from his home country of Chile! Normally, he stays two days as he showed up on Friday and planned on leaving Sunday. He decided to stay an additional two days because, in his words, "
There is too much to see here
!" After loading up his car Monday afternoon, he drove to Los Angeles, where he was to fly home the next day. Believe it or not, he called us later in the day and ordered more stuff for us to send to his hotel room. Gerardo's a great guy and a highly respected entertainer in his country. We look forward to his visits again in our new home very soon.
Our friend Gerardo Parra visits us from Chile!

Mike showed me a few pictures of his new home, and if you are a fan of reading magic books and watching magic videos and DVDs, take a look at the shots of his new study. How he found space to store all those new books, videos, DVDs, AND his show equipment is beyond me.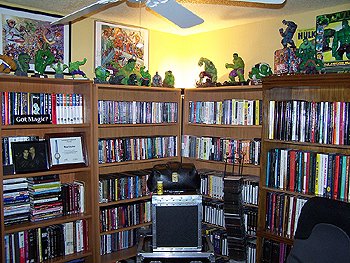 Office/study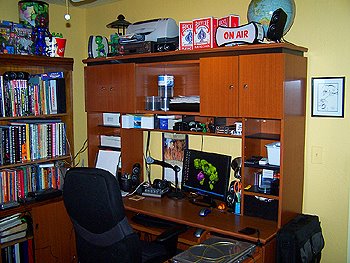 Office/study with view of where the radio show takes place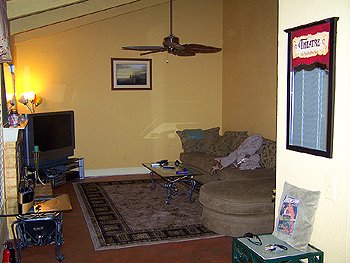 The very warm and comfortable living room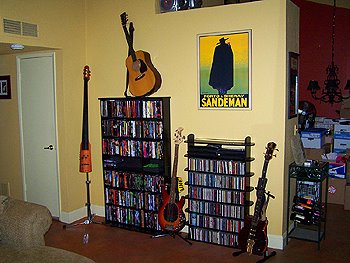 The opposite wall of the living room/entertainment wall

Now Mike is in his new place, so for him, change is good, too! As for me, this will be the first weekend without painters, carpenters, electricians, you get my drift, will be in my house. I plan on just taking it easy this weekend. I really do have a good life.
Until next time,
Paul