That's been the standard saying as we've been busily packing up our things. We're finding a lot of stuff in the warehouse we forgot we had. Boxes and boxes of used magic and estate items we purchase that were never listed are being accumulated so you can surely bet that there'll be a list for members appearing soon.
The interior construction of the offices in the new building are complete. Wednesday, the alarm company will install the alarm and we're anticipating a new paint job by the end of the week. We'll start methodically moving into our new location and trucking the inventory over, but we're going to be very careful how we do it; we want our new location to be as efficient and as work-friendly as possible. Every time we go over, we get excited over what this new mega-space will offer!
Our friend, Robert Baxt, has been busy filming a new pilot for a new television series called "The Jeff Garlin Show." You may remember Jeff Garlin from HBO's "Curb Your Enthusiasm" along with Larry David, and alongside Eddie Murphy, he's just finished a pilot for the new sitcom in Hollywood. The first episode features Robert Baxt as a circus promoter who stages an impromptu audition for Jeff while they're in line together at a bank. The scene features magic, plate spinning, juggling, contortionists, unicyclists, stilt walkers, and dog acts as Robert orchestrates everyone in the bank into his performance. Also in the bank with Robert is special guest star Wayne Newton, and the shows regular co-stars are Bob Einstein, better known as "Super Dave Osborn," and Dan Castelleneta, better known as the voice of Homer Simpson. Let's hope the network picks it up!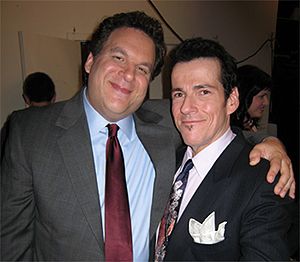 Jeff Garland and Robert Baxt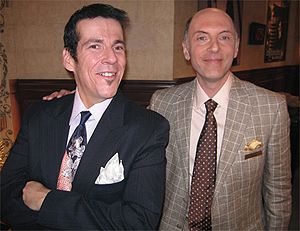 Robert Baxt & Dan Castelleneta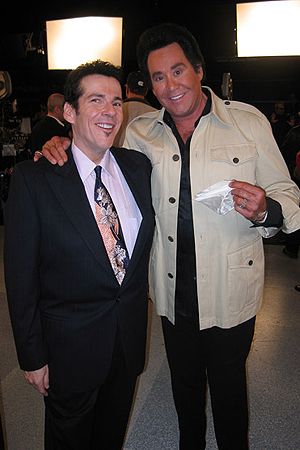 Robert Baxt and Wayne Newton
Saturday night, Betty and I watched our eldest son, Cole, star in the play, "Flowers for Algernon" as one of the main characters. He did a fantastic job and as always, we are very proud of him.
The weather here has been bizarre, to say the least. One minute is glorious sunshine, and the next it's hailing, which is what it did most of Friday and Saturday. Now, it's just cold with more rain to come. That's good news for the folks in the Sierras as they need the skiing business, and the rain always cleans out the air here on the valley floor.
Tonight, my oldest daughter, Renee, is coming up from Santa Barbara to introduce us to her new boyfriend. Am I prepared for this? We'll see... I'll be back on Friday with more to report.
Until next time,
Paul