Friday, April Fool's Day, and my son, Max, is in high gear. As you may remember awhile back, I told you he was the joke and novelty king. Last night, the phone at home was ringing off the hook. I asked Betty who it was who kept calling, and she told me it was Max's friends placing their orders for some April Fool's Day pranks! You should have been there this morning to see Max loading Betty's car with boxes of novelties and jokes to deliver to his friends at school this morning. It was hilarious, but it also made me very proud. Max is definitely a chip off the ol' block.
What do you get when you mix R. Paul Wilson and Joe Porper? Simple: the new Terminator Wallet! Last November, Mike and I had the pleasure of witnessing the first working models from Paul and Joe! Even then we knew they were on to something special! The prototypes themselves were amazing, and now it's perfection! If you are looking for a way to bend signed, borrowed coins without any funny moves, switches, or awkward moments, the Terminator Wallet is made just for you. Joe and Paul are producing only 35 Terminator Wallets as an exclusive to Hocus Pocus, and as I write this, we have already sold 11! If interested, give me a call or check it out on the
web site
.
Something else I'm really excited about are the Gladiator and Knight Swords Through Neck! We received them yesterday and the quality is outstanding! This is not the typical Sword Through Neck you're used to seeing; these things look and feel like real, heavy, Victorian-style swords! Even the blades look real (not like tape measures) and are as close to solid metal as you can get! You'll have no fear waving these things around while onstage to prove they are genuine. Definitely worth taking the time to check out!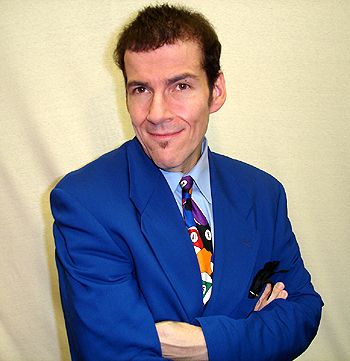 ROBERT BAXT
Special guest Robert Baxt will be gracing us with his presence here at Hocus Pocus for two weeks beginning Monday, April 4th. He's working on his new DVD for the fraternity: "How to Be Funny" as well as his next exclusive to Hocus-Pocus.com trick "Baxt's Cell Phone Surprise" in which a non-stooged cell phone goes off during your show and you take a real, honest to goodness, not a plant, cell phone from an unsuspecting spectator and destroy it to thunderous applause! So, when next you phone us, you might just hear Robert's signature "Hello, Hocus Pocus, this is Robert Baxt speaking." I'm sure Robert will not only bring his trademarked professionalism, but high humor as well. We all look forward to his appearance!
Two weeks from today, I'll be heading to Hollywood for the Magic Castle Swap Meet held on Saturday, April 16th. If you're there, say hello. Of course, we'll have photos like last time, so look forward to the coverage in the coming weeks.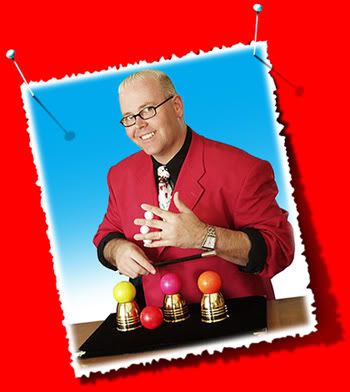 JASON LONDON

In life, we all have the pleasure of meeting and knowing great people. I had the pleasure of knowing Jason London for the last 5 or so years. Jason is a great guy with a terrific sense of humor and an incredible knowledge of magic. This week, Jason had a fortunate opportunity to accept an offer he couldn't refuse (as the Godfather would say) to work for Pelco Co. Pelco is one of the world's largest security companies and this is one of those once-in-a-lifetime opportunities for both Jason and his family. We'll miss Jason as I'm sure all of you will and hope you'll join us in wishing Jason all the very best in his new endeavor.
Tonight, I'll go home and tippy-toe around the house, in hopes of avoiding myriad traps Max has undoubtedly set for me.
Until next time,
Paul