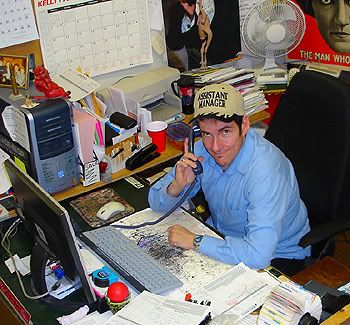 Hi,
Robert Baxt here! I'm hijacking the blog from Paul. He is so overwhelmed with response to the latest products we have here like the new Terminator Wallet and Baxt's Cell Phone Surprise (a little self-promotion never hurt) that he's probably never gonna' know that I'm doing this.
I've actually left my home in Hollywood, CA. down the street from the world famous Magic Castle and I'm here in beautiful Fresno, CA working on my latest release with Hocus Pocus.

Mikey-pooh here
. Now it's my turn to do what I do best: take what's Paul's and make it mine, ALL MINE, BWAHAHAHAHAHAHAHA and all that stuff!
I've been having tons o' fun lately with Daniel Garcia's Torn DVD, Daniel's take on the now-classic Torn & Restored Card plot. Having practiced it for about a week now, tonight it will make its debut at one of my weekly restaurant gigs. Upon showing the first and second restoration sequences to Paul and some of the employees here at the shop and FRYING them completely, I'd say the signs are pointing to "all clear!" Keep in mind that Paul HATES card tricks and was blown away when I showed it to him. If you are a fan of the T&R Card and have not purchased Daniel Garcia's Torn DVD, do so immediately and without fail (it also contains Daniel's original VHS version converted to DVD as well)!
Also, some HUGE news:
Tune in to the
Magic Broadcast
this Tuesday for the Mike on the Mike Show, hosted by yours truly, where my guests will be none other than Robert Baxt and Paul Gross! Not only will you be hearing tons of performance stories and some terrific magic history, you'll also have a chance to win one of the following six prizes we are giving away:
1. Ascanio & Adventures of 51 Magicians & a Fakir Books
2. Portable Card Sword by Jay Leslie
3. Bill in Ice by Chance Wolf
4. Baxt's Cell Phone Surprise
5. Electronic Crasher
6. Kozak Salt Pour
That's $820 dollars worth of quality magic! Each and every product and description can be found by going to the Hocus Pocus Web site...
http://www.hocus-pocus.com/magicshop/?hn=1
Tune in to the
Magic Broadcast
to find out how to win!
I'm out!
HEY WAIT A MINUTE! Robert Baxt typing again, how did Mike Giusti hijack my hijacking of the blog?!?! (He's not just good, he's VERY good!) Just wanted to add that the next project for Hocus Pocus and me will be my booklet, "10 Ways 2 Be Funny" for magicians and other performers. It'll be available before Summer. So until the next time Paul leaves the computer unguarded, I just want to say a big sincere "Thank You" to Paul and Betty and the whole Gross Family as well as the staff: Mike, Jan, Nick, Louie, Jay, and all the rest for making me feel so welcome here!
Nice try, guys. You didn't think that I'd let you get the last word in, did you? This is Paul, and I wanted to let everyone know that it's been a lot of fun having Robert around this week. The week has indeed flown by. In other exciting news, we will be carrying the entire AB Stagecraft Line of Mentalism from Mr. Paul Alberstat. As many of you know, Paul is a full-time performer, and all of the material from the AB Stagecraft line is real-world, audience-tested material. Watch our web site starting Monday for these products to begin appearing!
Talk about products appearing, have you checked out the web site lately? I've had Mike running so fast and so hard this past week, that I think he's lost 10 pounds in the process. When I cautiously approached his desk today to ask him a question, here was the look he gave me: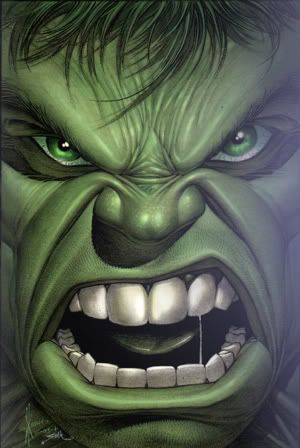 What does that mean? Just joking. Mike's one of the hardest working guys here. I know because his fingers hit those keys so hard and fast, his fingers are 2 inches shorter than when the week started.
Don't forget, next weekend is the big Magic Castle Swap Meet, and as always, I'm looking forward to our lunch on Friday, the day before. The whole gang will be at Musso & Frank's: Robert Baxt, Carl Ballantine, R. Paul Wilson, Joe Porper, Pete Biro, Chuck and Gerald Kirchner from Magic City, Louis St. Pierre - owner and Godfather of Hollywood Magic, Betty, and myself. Remember, if you are at the Swap Meet Saturday and you see me searching through all the great things there, be sure to stop me and say hello.
So there you have it and there it is: Fun, Fun, Fun! I can't wait for next week. And hey -- don't forget to listen to Mike, Robert, and I on the Magic Broadcast on Tuesday, April 12 at 9:00 PM!
Until next time,
Paul