Hey everyone,
I know that today is tax day, and for those of you expecting a refund, what better way to spend your windfall than on some of our great magic items? (And of course, for those who have heavy tax bills, what better way to relieve those tax day blues than with some of our great magic items?) :-)
We're happy here. Today, Betty and I head off for Hollywood, California where we will be having lunch at the famous old Hollywood restaraunt, "Musso and Franks" with many dear magic friends, including Chuck and Gerald Kirchner from Magic City, Louie St. Pierre, owner of Hollywood Magic, famous comedy magician and actor Carl Ballantine, Robert Baxt, Lou Hirschorn, R. Paul Wilson, and a host of others.
Tonight, we'll be having dinner at the Magic Castle with the Queen of the Castle herself, Irene Larsen, and catching Goldfinger and Dove who are starring there in the Palace of Mystery Show.
I also want to thank all our listeners who heard us on the
Magic Broadcast
earlier this week when The Mike on the Mike show starring our very own Mike Giusti had Robert Baxt and me as guests as we discussed fond magic memeories of my hero, Harry Blackstone Jr. and gave away tons of valuable prizes from our list of exclusive magic like the Baxt Cell Phone Suprise and Paul Kozak's Superior Salt Pour gimmick! Congratulations to all the winners!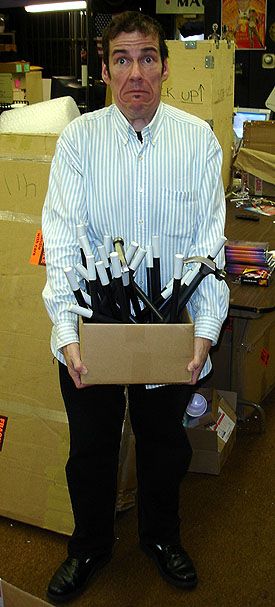 As a matter of fact, Robert has been visiting this week as we work on his Cell Phone Surprise trick to ship next week. He's grimacing in this photo because those hammer/magic wands he's holding in that box are heavy (and funny). Later, Robert had a few spare moments and decided to make some extra dough on the streets of Fresno plying his three card monte skills. Beware if this man offers to let you win: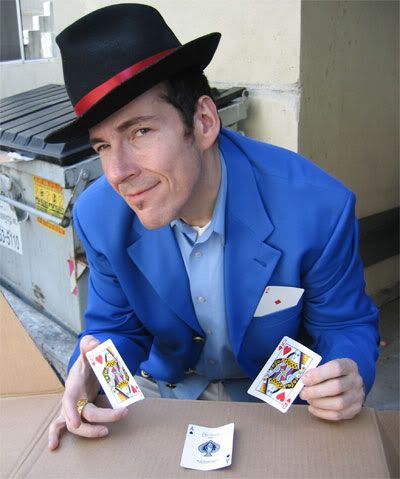 Other guests visting this past week included Australian magician Pete Brown who, on his first trip to the United States, dropped by to see us and walked the aisles and aisles of Hocus Pocus to purchase all the great stuff we have here, that he can't get "down under."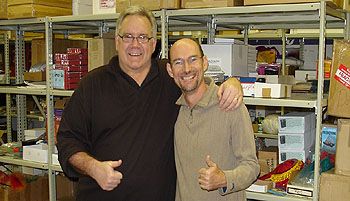 Pete and me.

For the rest of you, you may have noticed a new look to our website, and there are more changes on the way. We want to do our best to make your online shopping experience as pleasant as possible, and I ask you to let us know what you think about our site.
On top of all the other things that were going on this week, did I mention we shipped several hundred PSI Sharpies? Jan, my sister, who's in chargeof shipping in the warehouse, tells me her fingers are raw from packing and shipping them all. In my sleep I'm still seeing PSI Sharpies. Yikes!
That's all for now. Looking forward to telling you all about our trip next time!
Paul